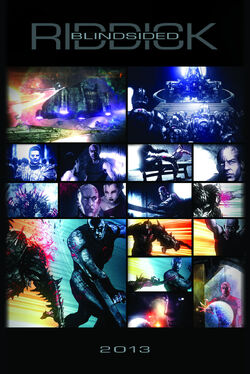 Riddick: Blindsided is a one-shot motion-comic made to bridge the gap between The Chronicles of Riddick and Riddick.
Richard B. Riddick is the new Lord Marshal, but he has yet to take the oath, that every Necromonger lord marshal is bound to take. Riddick has not submitted to the Necromonger faith and has yet to take cult to the threshold, and has been since been eying his home planet of Furya. This does not go down to easy with some of the Necromonger commanders, and once again someone is sent to kill Riddick. Escaping death by two ways, one by an assassin and one by a concubine, Riddick realizes that being lord marshal is not for him. Commander Vaako tells Riddick that he wants Transcendence, as Riddick comprehends the term meaning for him to get off the ship. The Basilica is then seeing nearing a planet, as Riddick realizes that he should of never been civilized and he needs to find his animal side again.
The same day Vin Diesel and David Twohy revealed the new trailer at Comic Con, a motion comic tie in for Riddick was released on July 19, 2013.
Most of this content was added back to the film in the directors cut of Riddick.
Community content is available under
CC-BY-SA
unless otherwise noted.