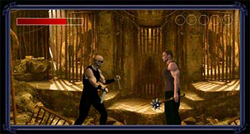 Escape From Crematoria was a promotional browser game to promote the DVD release of The Chronicles of Riddick on November 16, 2004[1]. The game was available on the official fan site[2], that organized a creation for a flash game, which Escape From Crematoria achieved[3].
The game can't be played anymore, as the webpages hosting the game has been down since January 2005. The web archive can still be accessed[4].
The game entailed killing the Lord Marshal as Riddick, which awarded successful players with 800 "UD" points that could be traded for prizes[5]. The gameplay seems to be a 2D fighter.
Community content is available under
CC-BY-SA
unless otherwise noted.